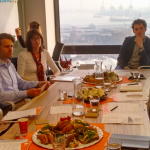 ROUNDTABLE DISCUSSION: Health-care Startups and investments
The Rotterdam municipality and ECE invited a group of healthcare startups and investors yesterday to discuss the investment challenges that healthcare startups are currently facing.
Rotterdam municipality was represented by Tessa Vreeken, the Urban Development Project Manager at the City of Rotterdam. ECE was represented by Andreas Petridis, the Research Project Management and Operations Manager, and the discussion was coordinated by Rob Posthumus, the Senior Legal Counsel at Erasmus Centre for Valorisation and ViroNovative BV, with significant experience in this field.
The startups that participated were LabHotel (represented by the Founder Marc Schellekens), Gociety (represented by the Managing Director Frank Verbeek), Sensehealth (represented by CFO Allert Post) and Dutch Domotics (represented by the Business Development Manager Maarten de Boo).
Investors that were present included Peter van Gelderen from Icos Capital, Robbin Hoogstraten from Symbid Corporation, Gerty Holla from Innovation Quarter, and Daniel Faloppa from Equidam.
The discussion resulted in valuable information for the Rotterdam municipality, which they can use to identify weak spots in the Rotterdam investment climate and seek improvements. It is expected that the information gained will contribute to the further improvement of the investment climate in Rotterdam.